It is time once again for the seasons to change and to usher in Fall. That also means for many of you that it is time to go through your closet and swap out the Summer pieces for the Fall/Winter pieces. Some of you may store your off season clothing in plastic tubs, some of you may use storage bags and some of you may simply put the off season pieces in a harder to use area of your closet.
Whichever method you use to store the clothing, we thought these 5 tips may help you out.
5 Tips for Storing Your Summer Clothes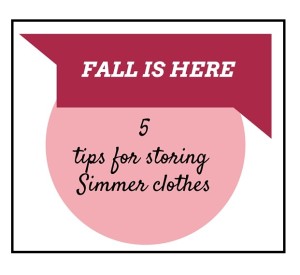 Evaluate each item
Pick a day when you are in the mood and be merciless. Look at each item one by one and determine if you have worn it in the last 2 years. If not, let it go. Create a pile of clothing you will donate and add anything you have not worn to that pile.
Evaluate your size
No one likes the fact that they may have gained weight, and that some of your clothing may no longer fit. We all hold out the hope that someday we may get back into that dress, pair of jeans, etc. If it has been more than 2 year since you have been able to fit into the item, put it on the donate pile. It's fine to keep one or two smaller pieces if you think the visual impact of this goal to loose weight will help, but realistically if you do loose weight you'll be so happy that you will want to go out and buy new smaller clothes.
Can you bring it into the next season?
When you are looking through your items, especially simple tops, consider if they can be worn in the Fall/Winter. Tank tops and cami tops work great under open front sweaters and some of your dresses will work in cooler temps when paired with a great blazer jacket. If the pieces can cross over, don't store them.
Check the condition
Before you pack away any pieces, check for loose buttons, pulling seams, etc. Take the time to fix these issues now. If you wore the item and did not launder it, we advise taking the time to launder it before you store it. Body oils that are not visible on an item now can darken and discolor over time when an item is stored away.
Hanging vs. folding & where to store
It is personal preference how you will store your off season clothing; some people have room in their closet to be able to move the off season items from mainly used part of the closet to another area. If you don't have the luxury of all that room in the closet you will probably end up removing the pieces and storing them elsewhere. Hanging works well for items like skirts, dresses and any piece that has delicate fabric that may permanently wrinkle if packed away a long time. Think about other areas in the home that have a pole like a coat closet, basement, etc. Maybe you can hang a clothing pole in the basement for your off season clothing?
If you are storing other items like shorts, t-shirts, etc you can put them in a plastic storage crate or vacuum storage bag. The vacuum storage bags save a lot of space, but your clothing will come out wrinkled when you finally open the bag; this isn't permanently damaging to most items but they may need a fluff in the dryer to remove those wrinkles in the Spring. We don't recommend using cardboard boxes for storing your clothing because if there is moisture around the storage area (like the basement or garage) the cardboard can absorb the moisture and form a musty smell that may transfer onto your clothing. Plus, in the unfortunate event of water leaking into the basement/garage/home the clothing wouldn't be protected in a cardboard box.
Placing a closet sachet in the bins will help to keep bugs and smells away from your off season clothing.
Share on Facebook