It's with a sad heart that we report that the quirky and clever creator of the QVC Quacker Factory line of clothing and accessories has passed away.  There have been no details announced at this time, except for a Facebook note and an announcement from QVC on their forum.  Dream Adventures carries Jean's famous Quacker Factory clothing and we enjoy the fun and silly designs she has created over the years.
Jean was a delightful person who was not afraid to live life to the fullest. She will be missed.  You can read more about Jean Bice and Quacker Factory on our eBay Guide about Buying Quacker Factory clothing.
We send our best wishes of sympathy to the family of Jean Bice.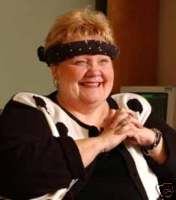 Share on Facebook